dClimate Ecosystem Roundup Vol. 01
Read all the dClimate updates of the last few weeks in one overview: highlighted news, blogs about climate data, partnership announcements, and community news.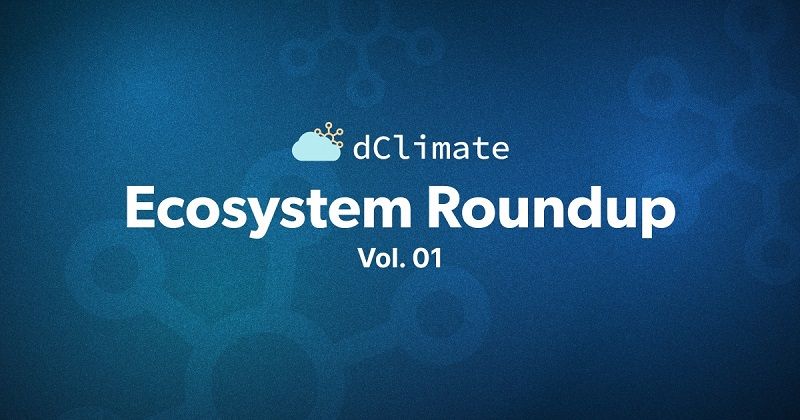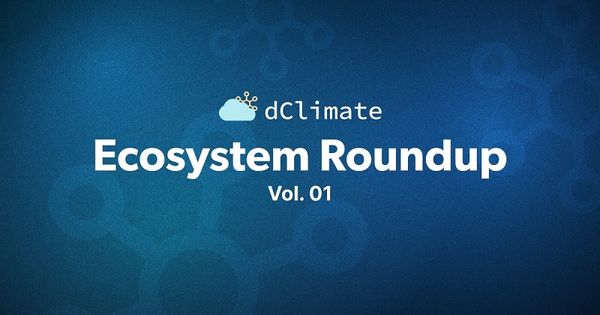 This dClimate Ecosystem Roundup presents an overview of all the things that we have shared in the last few weeks: general updates, announcements, new blog posts, and community events.
For a wider perspective of the climate data space and how it powers the regenerative finance (ReFi) movement and data-driven climate impact, please have a look at our bi-weekly newsletter called Data ReFined.

🥳 The dClimate Data Marketplace went live on testnet! The public launch of our flagship product is a big milestone. This blogpost explains more details of the possibilities, and provides insights into the current limitations for data providers of the public alpha release.  
🗂️ Our Data Catalogue is now available in a more user-friendly interface, showcasing all the different climate datasets currently available through our REST API and Data Marketplace.
💻 We launched the dClimate Blog and published the first edition of Data ReFined, our bi-weekly newsletter about climate data, regenerative finance, and data-driven climate impact.
🌦️ In 2022, we helped to settle $170m worth of climate risk insurance contracts in collaboration with our friends at Arbol, a parametric insurance company.
🎙️ Robert, dClimate's Head of Growth, made an appearance on this podcast episode titled: "How is Web3 Restructuring Value for Forestry & Agricultural Land Owners & Stewards?"  
📺 Osho Jha, CEO and Co-Founder of dClimate, attended this panel at Miamiweb3, titled: "Can Crypto Save The World? Crypto For Good."
---

🗺️ Why We Need an Immutable Record of Earth's Climate Data - science and data collection is inherently a decentralized effort. Read blog
🔓 dClimate: Unlocking the Power of Data to Advance Climate Action - a refresher of what we do and why. Read blog
🌐 A Better Approach to Organizing Data Marketplaces - why a decentralized marketplace matters. Read blog
📧
Would you like more content like this? Click here to sign up for our bi-weekly newsletter about climate data and regenerative finance.
---

🌍 Shamba: data provider adding climate information for Sub-Saharan countries
🌿 Menthol Protocol: using dClimate's data infrastructure and verification tools for quality control of tokenized nature-based carbon offsets
🦎 GecoSistema: data provider adding flood risk intelligence to our data ecosystem
🌪️ Ubyrisk: data provider adding natural disaster data for dClimate ecosystem builders
---

The Community Call AMA on Friday, Feb 3 hosted on Discord was a great success and links to collect a Proof-of-Attendance (POAP) have been sent out to those that attended!
We plan on hosting one every other week to engage with the community, answer questions, and perhaps tease some upcoming developments.🤫
📞
The
next Community Call
will be on Friday, Feb 17 at 14:00 / 2PM EST, hosted via
Twitter Spaces.
See you there!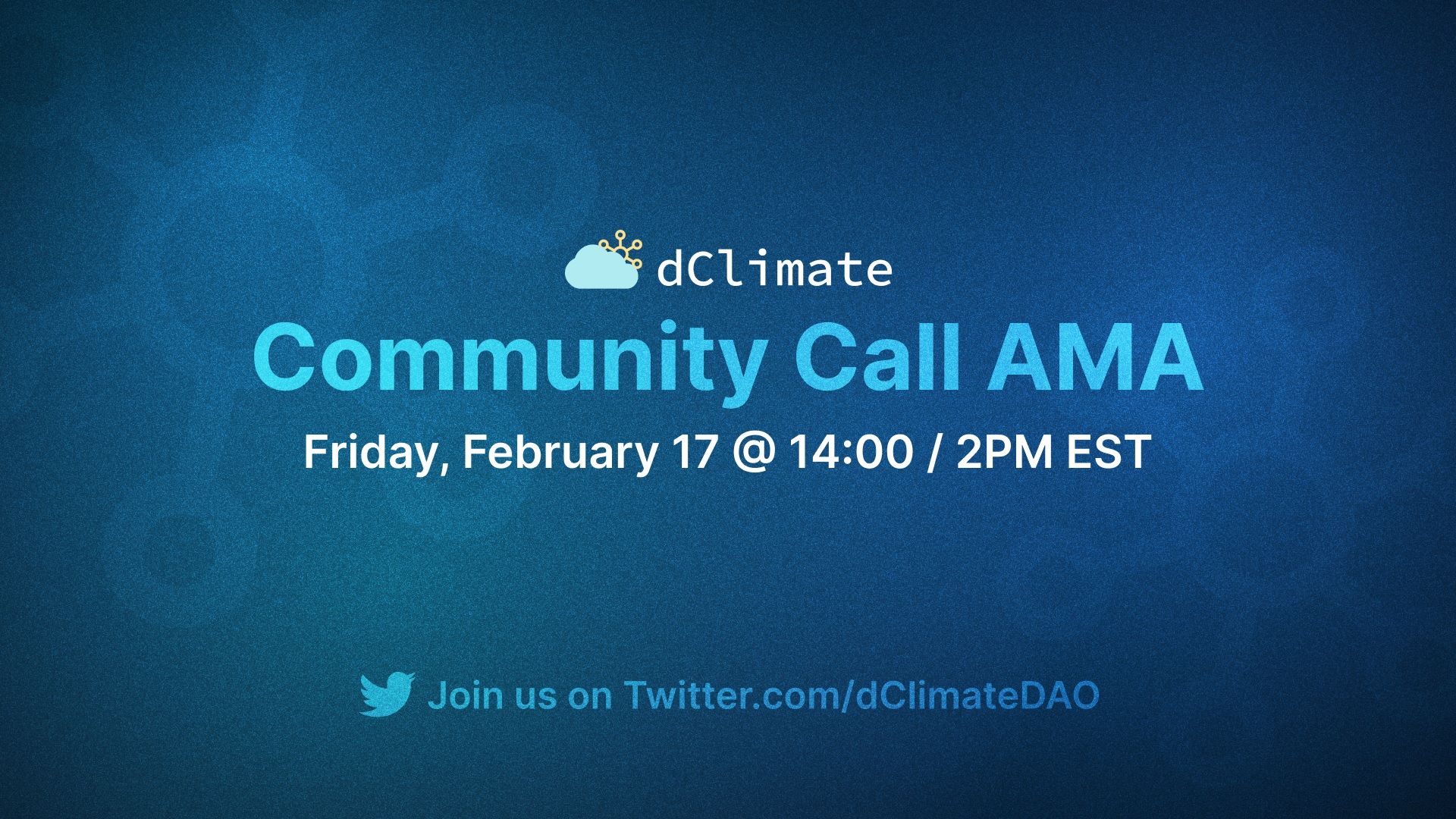 ---
👇
If any of this interests you, and want to learn more about the decentralized and open climate data ecosystem we are building: