dClimate Partners with Shamba Network to Bring Climate Data for Sub-Saharan Countries Onto its Data Marketplace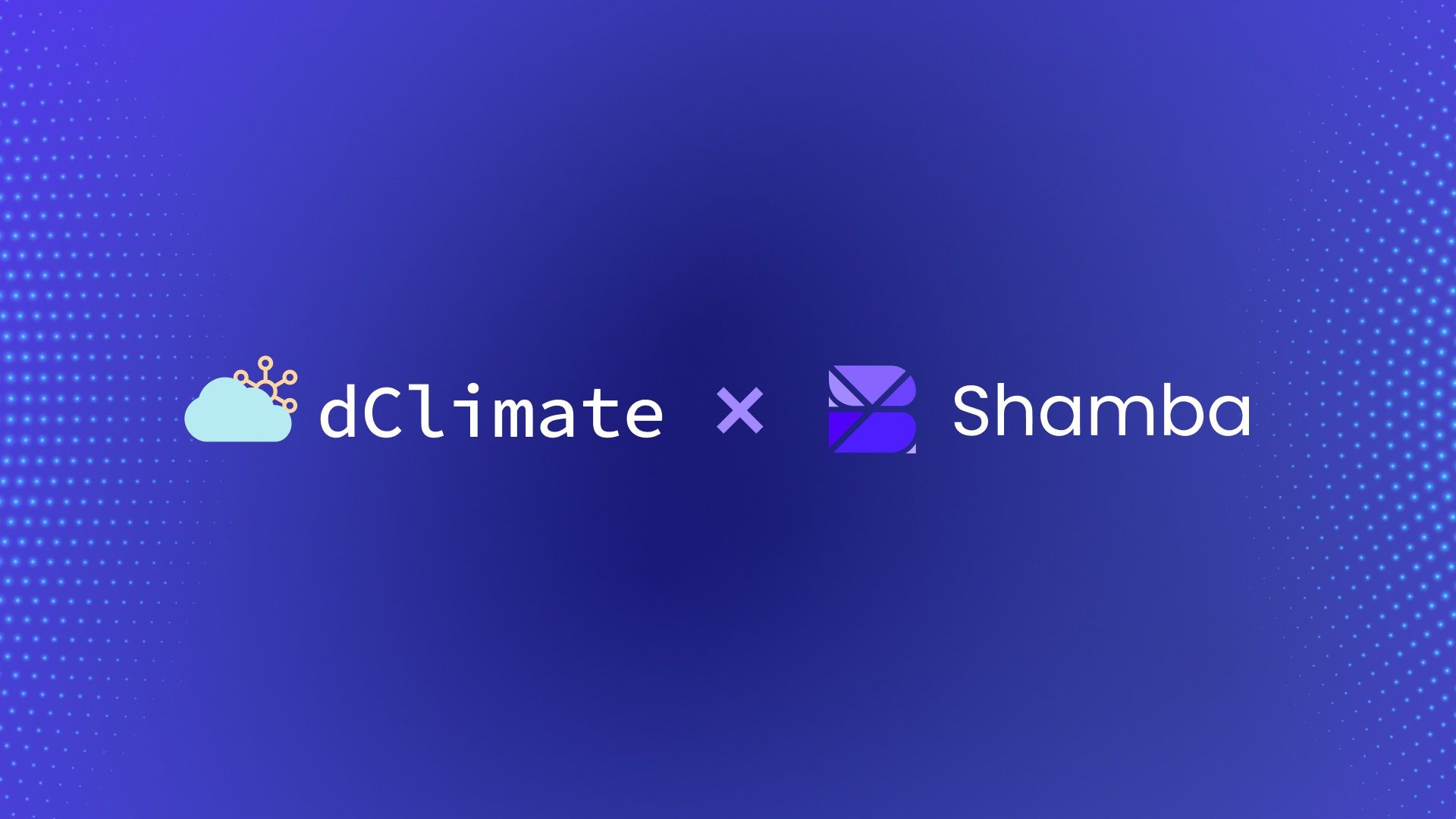 dClimate, a leading decentralized climate information ecosystem, today announced a partnership with Shamba Network, a decentralized monitoring, reporting, and verification (dMRV) network and ecological data oracle. Through this partnership, dClimate's data marketplace will now provide corporations and data consumers access to climate data from across sub-Saharan Africa. Included in these datasets are vegetation (NDVI), weather (rainfall, temperature), air quality/greenhouse gas, and wildfire information. This integration grants users the ability to search for and build advanced tooling, models, and analytics with Shamba's datasets.
"We are excited to partner with Shamba to bring its critically important climate data onto the dClimate marketplace," said Osho Jha, co-founder and CEO of dClimate. "Building an immutable and open ledger of Earth's climate record requires collaboration with leading data providers across the globe. This integration with Shamba provides data consumers in the dClimate ecosystem access to valuable datasets to build towards meaningful and verifiable climate action."
The dClimate data marketplace allows users to quickly and simply access, share and use data on a range of important climate variables such as rainfall, soil moisture, temperature, GHG emissions, and geospatial data. The platform successfully deployed its alpha version to the Polygon Mumbai network on January 10th, and is now live for users to consume free climate data today. The marketplace can be accessed here.
Shamba's datasets will be available on testnet as part of this partnership. Shamba is a pioneering and innovative regenerative finance company that serves as a data oracle for on-chain ecological solutions. dClimate and Shamba's data partnership is a step forward in advancing the significant use of blockchain and data for climate solutions.
"Data is the lifeblood of the information economy," said Kennedy Ng'ang'a, CEO of Shamba. "From driving financial applications to enabling impact projects, the modern world is powered by data. We are excited to partner with dClimate to make satellite data available on their marketplace. We believe this partnership will enable the development of new climate action applications and inspire innovation in the ecosystem."
Shamba is the latest addition to dClimate's global network of data partners, joining other previously announced partners including GuildOne and Hyphen. dClimate now provides more than 30TB+ of free climate data via its marketplace and REST API to builders across the regenerative finance (ReFi) ecosystem. Reach out to our team today to learn how to become a data partner. Stay tuned for more exciting data partnerships!
About dClimate:
dClimate is a chain-agnostic decentralized climate information ecosystem. dClimate makes it easy for businesses and builders to find, access, and utilize essential information about our planet to better understand how weather and climate impact our communities and build data-driven technology solutions for helping communities achieve climate resilience in the 21st century.
👇
If any of this interests you, and want to learn more about the decentralized and open climate data ecosystem we are building:
About Shamba Network:
Shamba's mission is to enable regeneration of the planet and empowerment of farming communities. Shamba does this by providing ecological data on-chain to drive a variety of web3 applications. Shamba is building a decentralized monitoring, reporting and verification (DMRV) network to provide the data that will underpin carbon and other ecological credits created by smallholders globally. Shamba supports farming communities to create ecological assets and use them to unlock new financing. Shamba also provides data to power a wide range of other applications in the Web3 space including parametric insurance and real-world derivatives.