dClimate Partners with Menthol Protocol to Bring Industry-Leading Data Validation to its Platform
The dClimate data infrastructure and verification tools will be utilized by Menthol Protocol for quality control of tokenized nature-based carbon offsets, targeting only the most impactful carbon credits for retirement.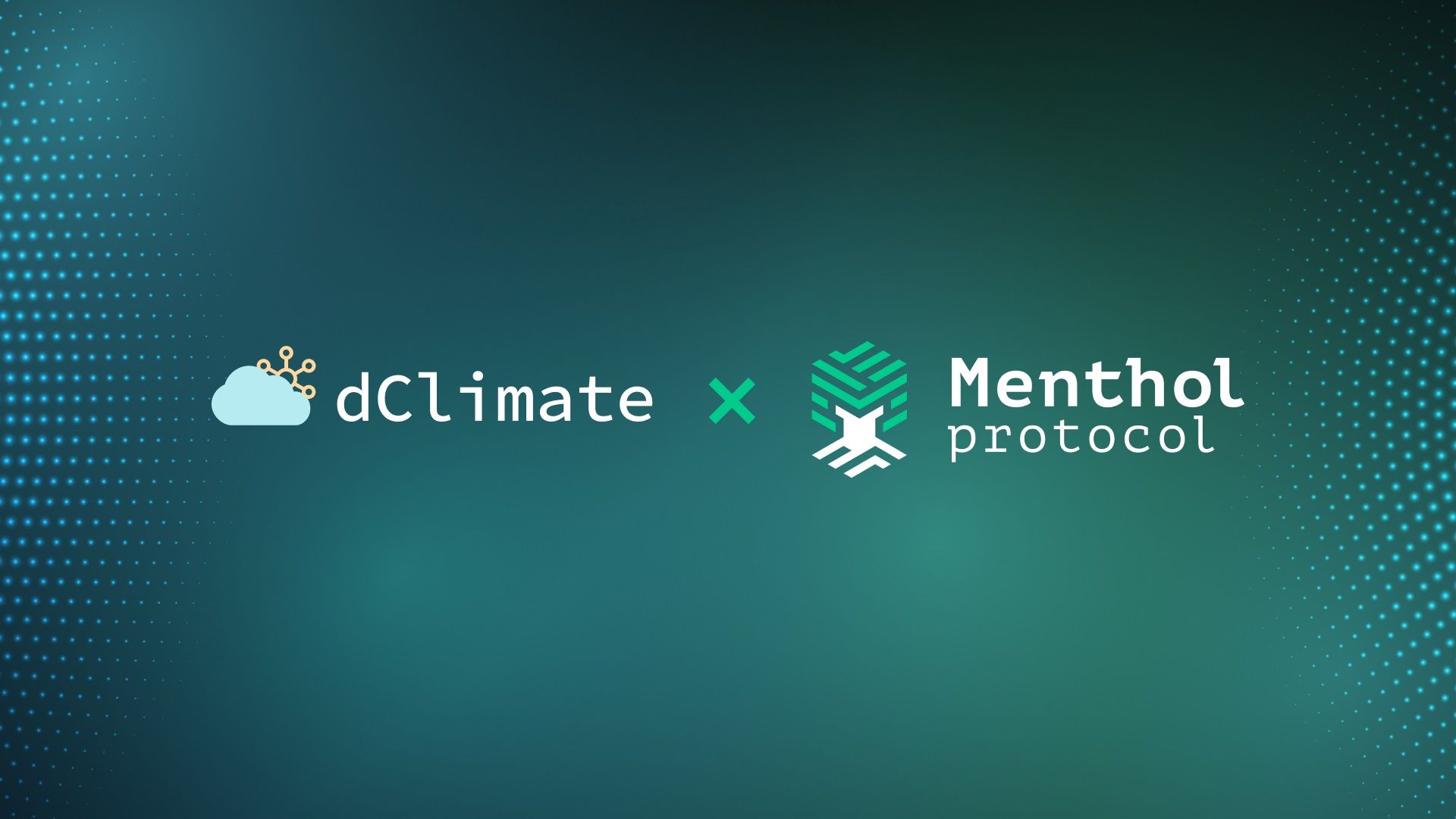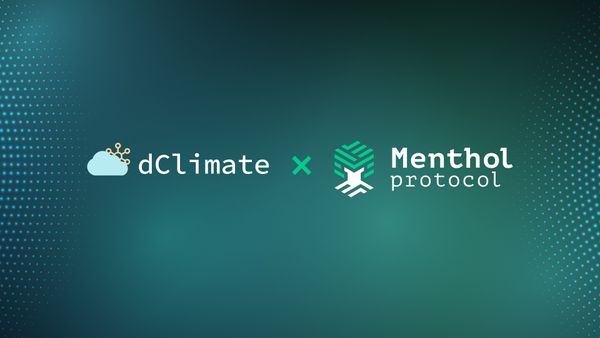 dClimate, a leading decentralized climate information ecosystem, today announced a partnership with Menthol Protocol, a multi-chain decentralized sustainability protocol. Menthol Protocol will leverage dClimate's climate information ecosystem and validation tools to verify the quality of its carbon removal suppliers.
The dClimate data marketplace launched its alpha version to the Polygon Mumbai network on January 10th, and is now live for users to access today here. The marketplace and free REST API include access to 30TB+ of free climate datasets and models, and data will soon be made available from anchor data partners, including HYPHEN, Shamba Network, and GuildOne.
Menthol Protocol's sustainability bots are responsible for automatically tracking, calculating, and tapping into pre-vetted, liquid on-chain carbon markets to retire the most impactful nature-based carbon tokens on your behalf. Whether it's for your favorite dApp, an NFT collection, an entire blockchain, or even for off-chain emissions and physical events, Menthol's solutions will let you enjoy "sustainability" in just a few clicks. With just a one-time setup, users can save time and money by turning their climate goals into automated climate action. Anyone can kickstart a CoolPool for their favorite dApp and make them green. Projects can also use our crowdfunding tools to inspire climate leaders in their communities to help them reach their climate goals. Menthol Protocol aims to rally companies and their communities to work together and make their ecosystem greener and the world cooler in a fun way.
"We are excited to be working with Menthol Protocol to bring data integrity and industry-leading validation to its protocol while also helping to verify the quality of its carbon removal partners," said Osho Jha, dClimate's Co-Founder and CEO. "Menthol is building an important application in the ReFi space for making it easier for on-chain and off-chain organizations to quantify environmental impact, and then take immediate action to offset that impact through high-quality offsetting. We look forward to working with them and their partners to ensure this platform reaches its ultimate potential."
"This partnership is a result of the natural synergy that exists between dClimate and Menthol Protocol," said Samet Yanar, Chief Strategic Officer of Menthol Protocol. "We are thrilled to have dClimate join our growing ecosphere and be able to leverage their climate data marketplace as an accountability tool and empower our users with the knowledge they are making a positive impact. Menthol Protocol is looking forward to supporting dClimate's climate efforts and their goal of helping communities become climate resilient."
Menthol Protocol has already launched their beta product for whitelisted clients and will have their full launch in Q1 2023. It is targeting to make Web3 the first climate positive industry and already partnering up with the major carbon credit tokenizers like Flowcarbon, Toucan Protocol, Moss Earth to offer high quality green assets, collaborating with Crypto Carbon Rating Institute for Credit for carbon emission calculation methodologies and onboarding Web3 companies meanwhile working on its product to expand its solution to the off-chain world.
dClimate's growing climate information ecosystem, encompassing validated, high-quality data, models and applications from leading government agencies like the European Space Agency, NASA and NOAA as well as leading commercial providers and data oracles like Hyphen and Oasis HUB provides platforms like Menthol Protocol and its partners with a strong data foundation to perform data validation, dMRV, and build advanced climate applications for enabling automated carbon offsetting.
About dClimate
dClimate is a chain-agnostic decentralized climate information ecosystem. dClimate makes it easy for businesses and builders to find, access, and utilize essential information about our planet to better understand how weather and climate impacts our communities and build data-driven technology solutions for helping communities achieve climate resilience in the 21st century. The dClimate network solves key issues around access, availability, and accountability in the climate data ecosystem with the world's first decentralized, open marketplace for participants to get and share climate data.
The network also enables an open ecosystem of climate resilience applications like parametric insurance, advanced analytics and models, and tooling to be built on top of the data layer. dClimate is pioneering data infrastructure solutions for scaling global carbon markets, incentivizing regenerative agriculture practices, and bringing increased efficiency to industries affected by climate risk.
👇
If any of this interests you, and want to learn more about the decentralized and open climate data ecosystem we are building: