The dClimate Data Marketplace Has Arrived On Testnet!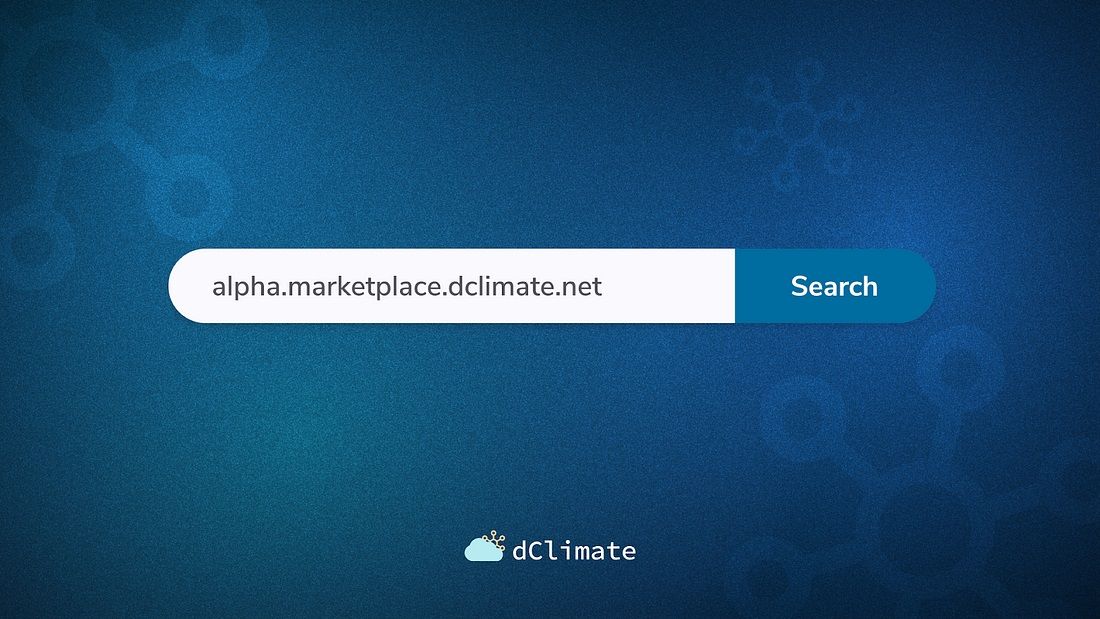 dClimate is excited to announce the world's first decentralized climate data marketplace is now live on the Polygon testnet-alpha! The dClimate data marketplace enables users to easily retrieve existing datasets from dClimate that have historically been available for free via our REST API — as well as commercial/private datasets from our anchor data partners. Here's a taste of what to expect with V1 of the marketplace and where we go from here:
Launch the dClimate Data Marketplace Here.
Why a Marketplace?
The climate information ecosystem currently lacks an open, two-way marketplace that enables data consumers and publishers to easily get and share data. Today, many data providers and academics collecting valuable information on our planet and crucial ecosystems have no central place where they can connect with consumers (academics, companies, governments, data scientists, etc.) who can value from these insights and ingest this data to build important resilience applications that advance climate action in key areas.
To build an immutable ledger of Earth's climate record that cannot be altered, or deleted and that is accessible to everyone as a public good, there need to be clear and defined incentives for contributing existing data and collecting new information. Once there is a single place where consumers can access Earth's climate record easily and with data already processed for institutional ingestion, this unlocks endless possibilities.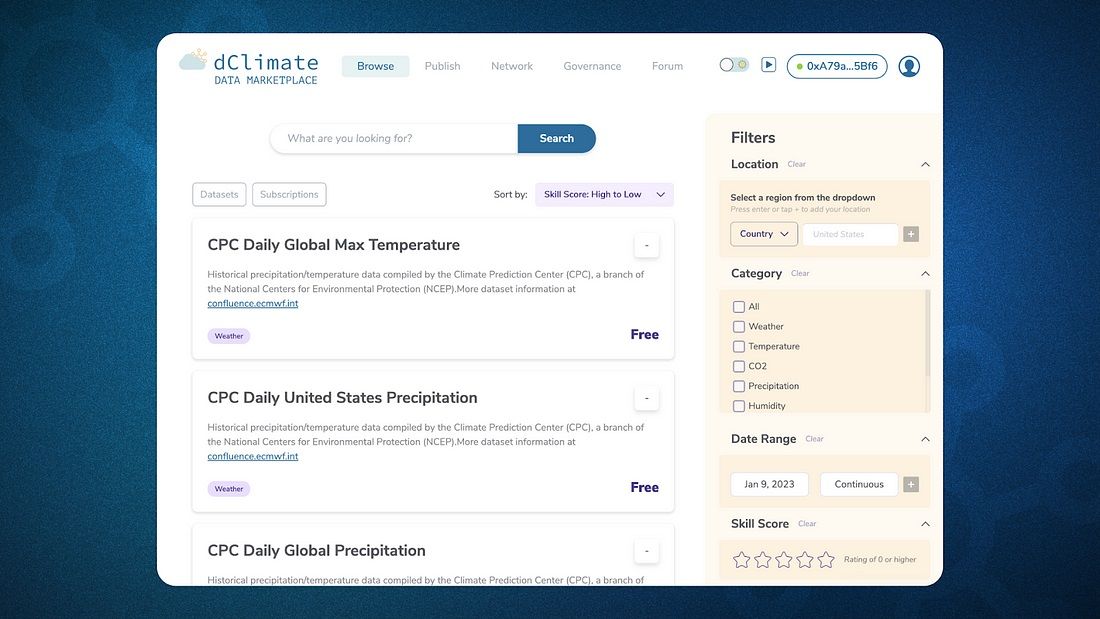 Raw data forms the base layer of an open ecosystem of applications, tools, and products built to analyze, assess and mitigate climate risk across our entire financial system. From parametric insurance to dMRV tools to platforms for impacted industries, the possibilities are truly endless when you unlock the power of data and empower a community dedicated to verifiable climate action to contribute to building the next generation of climate tech. We hope the dClimate community (and communities beyond just our own) will begin using and testing out the marketplace, playing around with key features, and providing feedback for future iterations of this product.
We look forward to hearing your feedback!
Where We Go From Here
User feedback and testing will be incorporated into testnet — beta, which will be the final version of the data marketplace before we deploy onto the Polygon mainnet and unlock all of the marketplace's core functionality, including paygating for commercial and proprietary datasets. Right now, users can upload their data to dClimate, but real money is currently not being exchanged on the marketplace and you should only upload datasets that you are comfortable being removed before the merge to mainnet.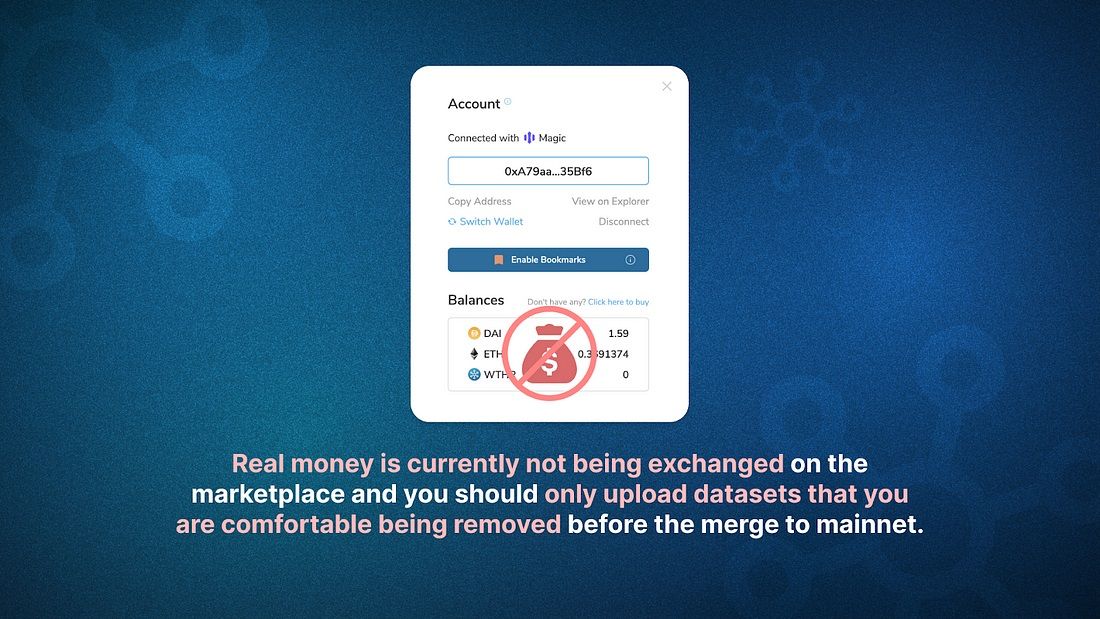 What Data (And How Much) Is Currently Available
More than 30+ TB of free, indexed, and organized climate data is available today on the dClimate marketplace and REST API for you to consume and begin building with. This includes the core base layer of data made available by dClimate from trusted public and private data providers like the European Space Agency, NOAA, and NASA. We will soon begin ingesting data from the Oasis Hub marketplace, which dClimate acquired in September, as well as our global network of data partners like GuildOne and Hyphen. Over the coming weeks, be on the lookout for announcements about new and exciting data partners who will be joining dClimate and making data available to builders throughout the ecosystem. If you or your company is interested in becoming a data partner, reach out to our team today here.
The dClimate network currently has important data on variables like soil moisture, rainfall, temperature, above-ground biomass, carbon sequestration, geospatial intelligence, and much more available to download today. That database will only continue to grow and expand over time as we onboard data partners and grow the ecosystem.
Join the Movement to Unlock the Power of Data
If you are a data consumer, publisher, or just a hobbyist interested in making the world a better face and advancing climate action, try out the marketplace on testnet today and join our community to learn about opportunities to get involved in the ecosystem. When you unlock the power of climate data and make it accessible globally not as a private luxury but as a public good, the possibilities are endless. Advancing meaningful and verifiable climate action is at the core of dClimate's mission. While the data marketplace is at the center of our ecosystem for taking that critical first step to unlock the power of data, we are fundamentally a climate solutions ecosystem turning raw data into actionable insights, intelligence, tools, and advanced products for fighting climate change. Reach out to our team today to learn more about how to start building on dClimate!
About dClimate:
dClimate is a chain-agnostic decentralized climate information ecosystem. dClimate makes it easy for businesses and builders to find, access, and utilize essential information about our planet to better understand how weather and climate impact our communities and build data-driven technology solutions for helping communities achieve climate resilience in the 21st century.
👇
If any of this interests you, and want to learn more about the decentralized and open climate data ecosystem we are building: