dClimate Partners with WeatherLogistics to Bring Access to its Re-Climate API to Community Builders and Users
dClimate will collaborate with WeatherLogistics to integrate Re-Climate®, Europe's most reliable seasonal climate prediction system, into the dClimate Data Marketplace.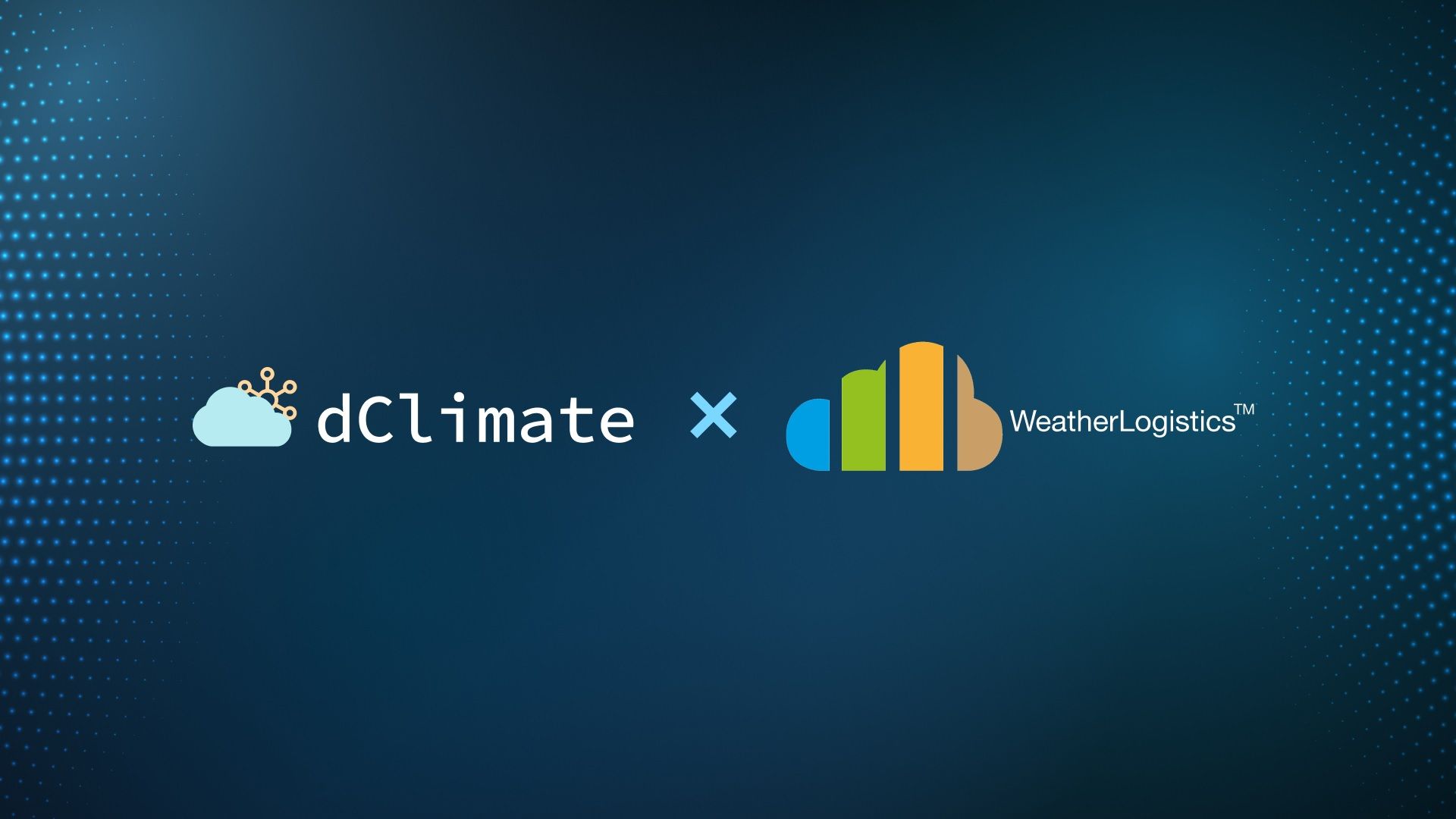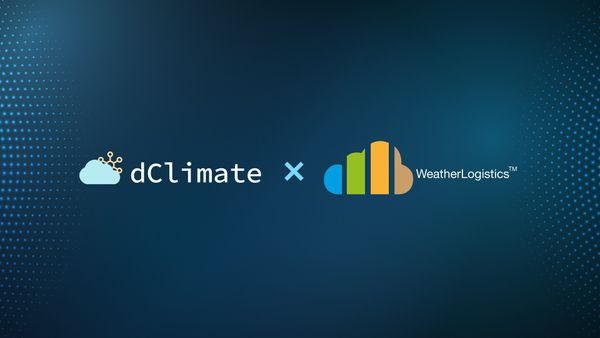 dClimate, a leading decentralized climate information ecosystem, today announced a new partnership with WeatherLogistics®, a UK-based climate technology company.
One of WeatherLogistics' key products, Re-Climate®, provides Europe's most reliable seasonal climate prediction system, featuring precipitation forecasts independently evaluated by the National Physical Laboratory. As the initial step in this partnership, WeatherLogistics will incorporate the Re-Climate API onto the dClimate data marketplace's testnet product. By integrating the Re-Climate API onto the marketplace, users can obtain free access to the API, construct critical climate tools utilizing the available data, and contribute to an iterative process that enhances the API's functionality, ultimately facilitating integration with dClimate's mainnet marketplace.
"We are thrilled to partner with WeatherLogistics to integrate their cutting-edge Re-Climate API onto our data marketplace," said Osho Jha, co-founder and CEO of dClimate. "This collaboration will enable us to provide our users with access to the most reliable seasonal climate prediction system in Europe. As we work towards the gradual integration of Re-Climate API with our mainnet marketplace, we remain committed to leveraging innovative technologies to provide decentralized climate information and build a sustainable future for all."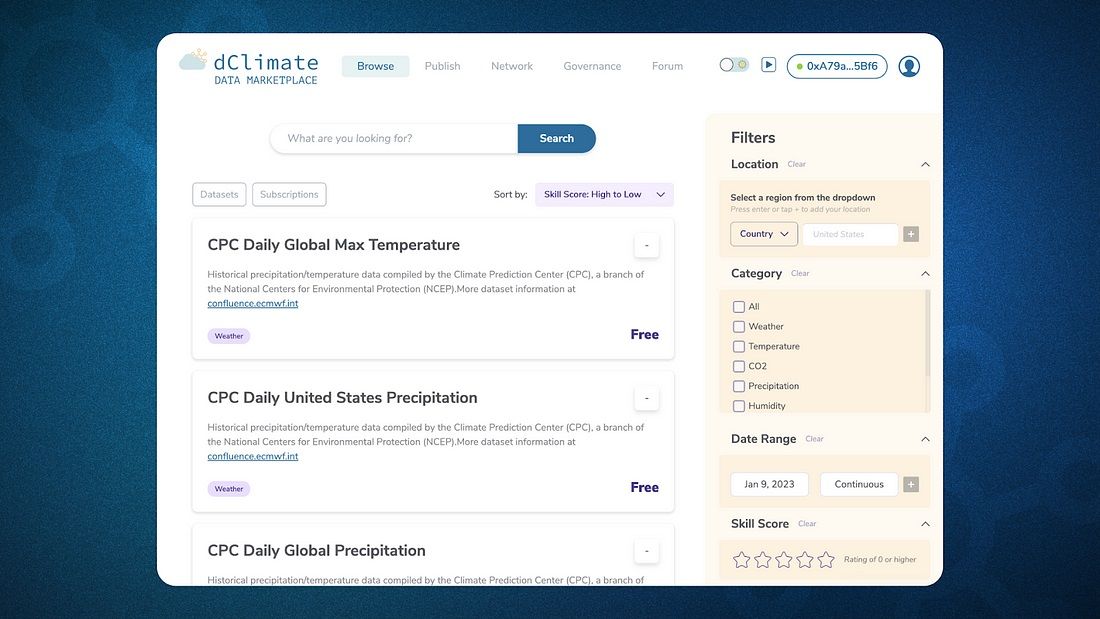 dClimate's testnet marketplace currently grants users access to over 30 TB of open-source data and models, free of charge. The ecosystem is continuously expanding with new partnerships, such as WeatherLogistics, providing a broad range of data for users to leverage within the dClimate platform. By forging data partnerships with more organizations, dClimate is fostering a comprehensive network of climate builders and users who are creating tools and solutions to aid in climate-related decision making.
"Europe has experienced a rapid surge in floods, heatwaves and droughts over the past decade. Our partnership with dClimate will now help communities adapt to future seasonal climate hazards," said Chris Nankervis, Product Owner and CTO at WeatherLogistics. "dClimate's standardized data format will help users make decisions faster"
On testnet, the Re-Climate API will provide access to historic (re-forecasts) data for regions in the UK, Spain, and Turkey, along with seasonal forecast data that includes drought, flood, and heatwave hazards. Users will also be able to obtain daily quantile (Q-Q) plots and gridded departure maps for temperature and precipitation, among other extended weather data. The collaboration with WeatherLogistics aims to expand the data available on the marketplace, where users will have the opportunity to access additional features of the Re-Climate API for a fee, including detailed data.
WeatherLogistics joins Shamba, GecoSistema, Ubyrisk Consultants, Hyphen, GuildOne and Menthol Protocol as part of the dClimate network of data providers.
About dClimate
dClimate is a chain-agnostic decentralized climate information ecosystem. dClimate makes it easy for businesses and builders to find, access, and utilize essential information about our planet to better understand how weather and climate impacts our communities and build data-driven technology solutions for helping communities achieve climate resilience in the 21st century. The dClimate network solves key issues around access, availability, and accountability in the climate data ecosystem with the world's first decentralized, open marketplace for participants to get and share climate data.
The network also enables an open ecosystem of climate resilience applications like parametric insurance, advanced analytics and models, and tooling to be built on top of the data layer. dClimate is pioneering data infrastructure solutions for scaling global carbon markets, incentivizing regenerative agriculture practices, and bringing increased efficiency to industries affected by climate risk.
👇
If any of this interests you, and want to learn more about the decentralized and open climate data ecosystem we are building:
About WeatherLogistics
WeatherLogistics® is an innovative UK based climate technology company, founded in 2014. Its Re-Climate® product delivers the most reliable seasonal climate prediction system in Europe, with its precipitation forecasts independently assessed by the National Physical Laboratory. The company achieves this by blending numerous climate datasets and weather models through its algorithms; and this helps organisations to accurately forecast extreme weather, calculate their risk exposure and build operational resilience.