Data ReFined #15: Leveraging Climate Data for Renewable Energy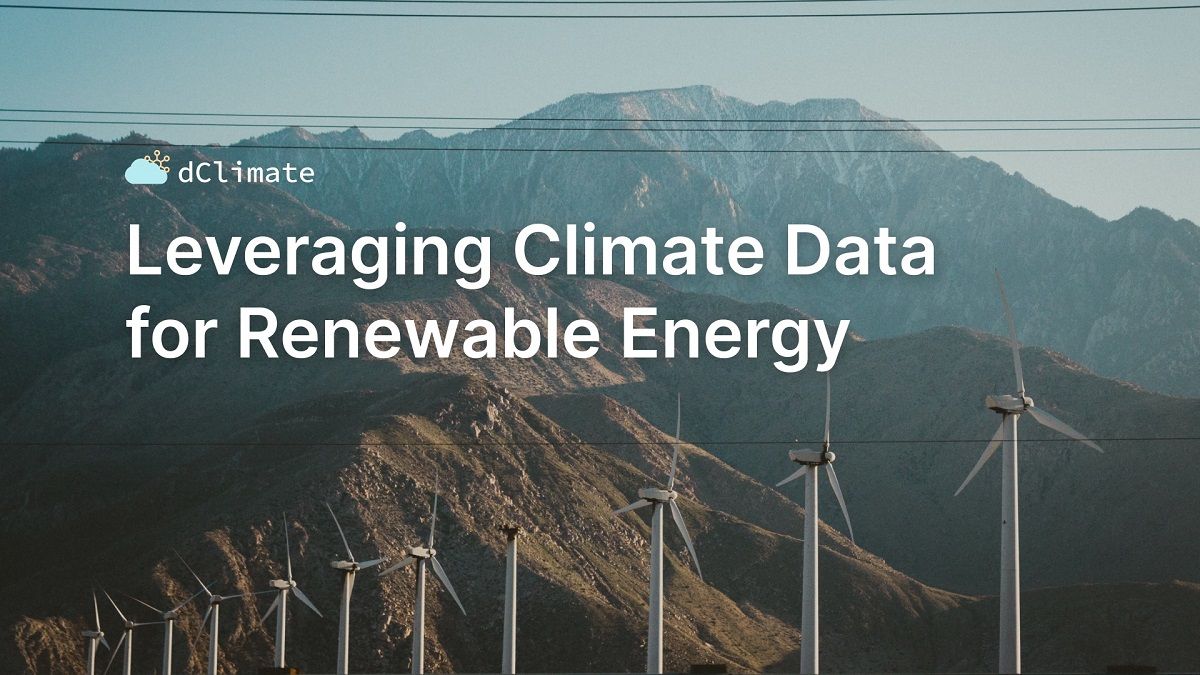 The Newsletter about Climate Data, Regenerative Finance, and Climate Risk ⛅
Solar and wind farms are being built at a record pace in 2023. Climate data plays an essential role in determining the optimal location for these large-scale facilities. In this edition of our bi-weekly newsletter, we highlight a data science project that has leveraged our open data infrastructure to do exactly that!
The Role of Climate Data for Renewable Energy
Earlier this year, we partnered with InclusionBridge. As part of an extracurricular study program offered by this non-profit, three students leveraged dClimate's open data infrastructure to download Copernicus' ERA5 datasets. The student team then combined their data science skills to determine the top 3 locations in the United States for wind and solar energy generation.
The benefit of using our climate data platform is that these sizable ERA5 datasets (1.6+ TB) have been cleaned up through our ETL process and transformed into the Zarr data format. The Zarr format allows data scientists to select a time range and geographical location and just download that part instead of the entire dataset, speeding up the workflow.
Learn more about this project in our write-up below! 👇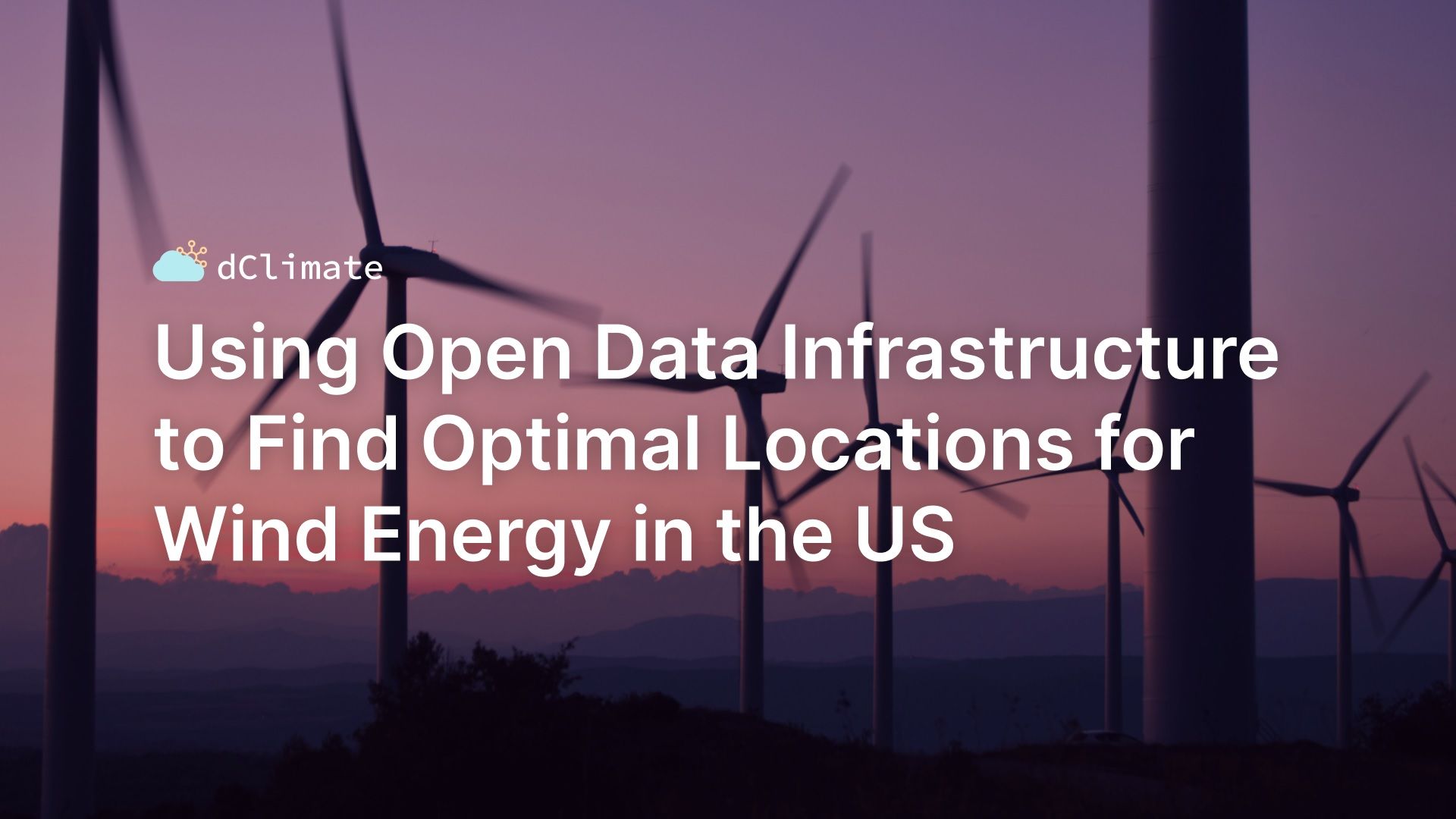 If you like to dive deeper into the data needs of various stakeholder types in the renewable energy sector, we recommend reading this article from Copernicus.
---
Looking to leverage institutional-grade climate data for your renewable energy project? Our data marketplace contains dozens of free datasets!
---
Industry News

Drought in Panama Canal Causes Shipping Delays
We recently published a case study about physical climate risks for the retail industry. One of the risks we mentioned was that of supply chain partners, including logistics companies many retailers are relying on. The article below explains the impact of droughts and low water conditions in the Panama Canal region, leading to shipping delays.
🛡️
Interested in actionable insights into the potential impacts of climate change on your business and key supply partners? Aegis, our new assessment tool for physical climate risks, is now
available for early access!
---
Instech Report on Insurance for Carbon Offsetting
The dynamics in the voluntary carbon markets are changing. Carbon offsetting is a growing sector, and logically there are challenges to scaling this sector. One of the new developments is to reduce risks for carbon offset projects.
Instech recently released a report that examines the landscape of carbon offset insurance, which you can download for free via the link below.

---

Soil Carbon Data
Although our data marketplace hosts over 40+ terabytes of institutional-grade climate data, reliable and accurate data regarding soil carbon has been missing. This is due to the manual labor involved in getting and analyzing soil samples.
Yard Stick has come up with a solution that can be attached to an off-the-shelf cordless drill, using spectroscopy to determine how much carbon is sequestered in the soil. A sample takes less than a minute to complete. The start-up says that its product helps to make soil carbon data more scalable and accessible.
---
Low Antarctic Ice Levels, Explained
This 8-minute video by climate scientist Ella Gilbert provides background information and nuance to the graphs that show the current historic low Antarctic ice levels.
---

ReFi NYC 2023 - Reserve Your Spot Now!
Our annual event, ReFi NYC, dives deep into the intersection of climate tech, sustainability, and finance. We have organized a great line-up of speakers and a fantastic location. September 21st is the date to mark in your calendar.
Registration for free tickets is now available, so visit our updated website for more information and reserve your spot! ⬇️
---
MRV Innovation Panel at ReFi Summit
Robbie Heilberg, dClimate's head of growth, participated in a panel discussion to talk about innovation in the (digital) MRV space a few months ago. The recording was recently uploaded, and we left a comment with timestamps on YouTube so you can easily navigate this conversation.
---
---
Thallo's Two-Way Carbon Credit Bridge is Live
Thallo has deployed its infrastructure for tokenizing carbon credits on the Celo blockchain. The two-way bridge ensures that carbon credits are traceable on both the blockchain and the underlying carbon registry.
Read more in this post from the Climate Collective, of which Thallo is a member.
---
Thank you for your Interest and Support 💙
Please consider sharing this newsletter with others if you enjoyed it. Also, we appreciate it when you provide us with suggestions, feedback, and comments. Reach out via one of our social links below, we are always happy to hear from our community!
⛅
Learn more about the decentralized and open climate data ecosystem we are building via the links below!
💽 Explore 40+ TB of free climate data via our Data Marketplace and API
🌐 Visit our Website, Blog, and Documentation
📰 Sign up for our bi-weekly Newsletter
🥳 Join the community: Twitter | LinkedIn | Discord | Telegram | YouTube