Get all up-to-date with the latest news regarding Climate Data, Regenerative Finance, and financial Climate Risk mitigation in this second edition of the Data ReFined newsletter. Scroll down for this delicious content! 👇
---

⛅We at dClimate hosted our first recorded Twitter Space in which we talked about the data marketplace one month after launch, partnerships, data engineering using IPFS, using Zarr files for climate datasets, and building decentralized systems.
🌳GainForest shared a tweet thread summarizing the team's recent field trip to the Philippines to map over 3000 trees which enabled creating a data-rich forest map.
💾Filecoin Green's Red Ransil spoke on a panel at Davos, in which he stressed the importance of transparent data flows to prove claims regarding sustainable practices and enable traceability in food supply chains.
🤝ReFiLisboa hosted their first monthly in-person meetup. The event was sold out as more than 70 people showed up to share insights, network and collaborate.
---

Regenerative Finance
📡Shamba Network published a Twitter thread explaining the concept of ecological data oracles and why they are valuable in Web3 applications that focus on climate impact.
✅John Hoopes, co-founder of Toucan Protocol, wrote an interesting Twitter thread on why data-based verification matters, especially for voluntary carbon offset credits.
🔵ReFi DAO released an extensive article with resources to start learning about the Regenerative Finance movement, making it easier for new talent to enter the ReFi space.
Data-Driven Climate Science
🌲David Dao, founder of GainForest, wrote a Twitter thread in which he summarizes his learnings of his PhD program regarding "an alternative financing model for nature conservation that relies on the value of fair data and open science".
🛰️IBM and NASA are teaming up to advance climate science using AI. By using Natural Language Processing (NLP) techniques the two companies can better process raw data from NASA's satellites. This makes it easier for data climatologists to analyze the Earth's environmental systems.
🌦️Google Research released a paper and code for an AI tool (neural net called MetNet-2) that predicts rain up to 12 hours in advance. It is a lot more efficient than current weather forecast models that rely on complex physics simulations run on supercomputers.
📧
Would you like more content like this? Click here to sign up for this bi-weekly newsletter about climate data and regenerative finance.
Climate Risk Insurance
🌪️Arbol published an article about parametric climate insurance, explaining how this data-based model can help businesses achieve financial climate resilience.
📰Sid Jha, one of the co-founders of dClimate, was interviewed for this write-up covering the different aspects of climate risk, environmental data, and the role of blockchain technology.
🌱Kita and Chaucer are teaming up with the aim of offering a new type of climate insurance product, covering delivery risk of carbon sequestration projects for businesses that pre-purchase these carbon credits in forward contracts.
---

🌐MiamiWeb3 Panel: Can Crypto Save The World? Crypto For Good. See what Osho Jha, CEO and Co-Founder of dClimate, has to say in this panel discussion.
🌎What is the Riskiest Region in the US as the Climate Changes? In this video, PBS Terra makes the case how climate change affects the US in different ways and concludes with places that are likely to be affected the most in the decades to come.
🍃The Global Thermostat - A Crazy Megaproject That Just Might Work. In this video, Joe Scott gives an overview of carbon capture businesses, and how this set of technologies could possibly lead to lowering the CO2 ppm in Earth's atmosphere.
---

🌾How is Web3 Restructuring Value for Forestry & Agricultural Land Owners & Stewards? - Amaly Legacy podcast
Robert, dClimate's Head of Growth, made an appearance on this podcast to talk about using web3 tools to monitor forests and agricultural land. Listen here  
🤖Tackling Climate Change with ML - Super Data Science podcast
Vince Petaccio discusses how data science, machine learning (ML), and other AI tools can be used for climate impact. Listen here  
🖥️Explainable Climate Science - Data Skeptic Podcast
Zack Labe, an atmospheric climate scientist, talks about why he uses Explainable AI (XAI) and machine learning (ML) models to process climate data. Listen here
---
💙
Thank you for reading this edition of the Data ReFined newsletter! We appreciate your interest! 🙌
If you want to learn more about the decentralized and open climate data ecosystem that dClimate is building:
---
Did you know that we publish a separate dClimate Ecosystem Roundup? To make it easy for you not to miss anything, we made an overview of all the developments regarding the growing dClimate ecosystem over the last few weeks. Check out the first edition here or click the image below!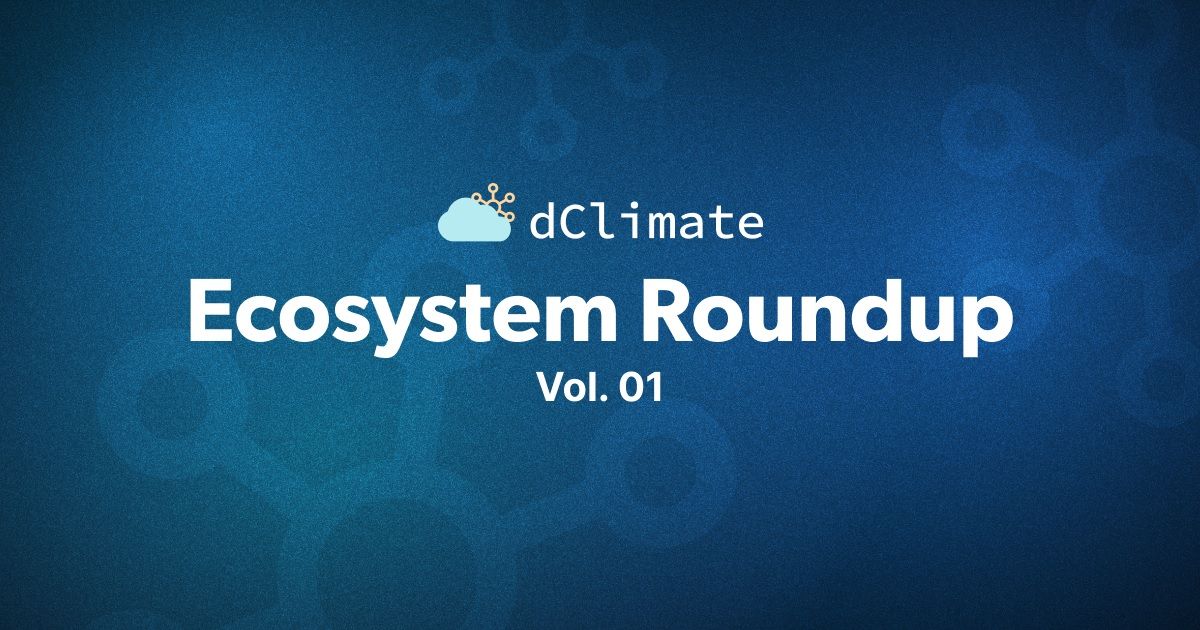 ---