dClimate FAQ's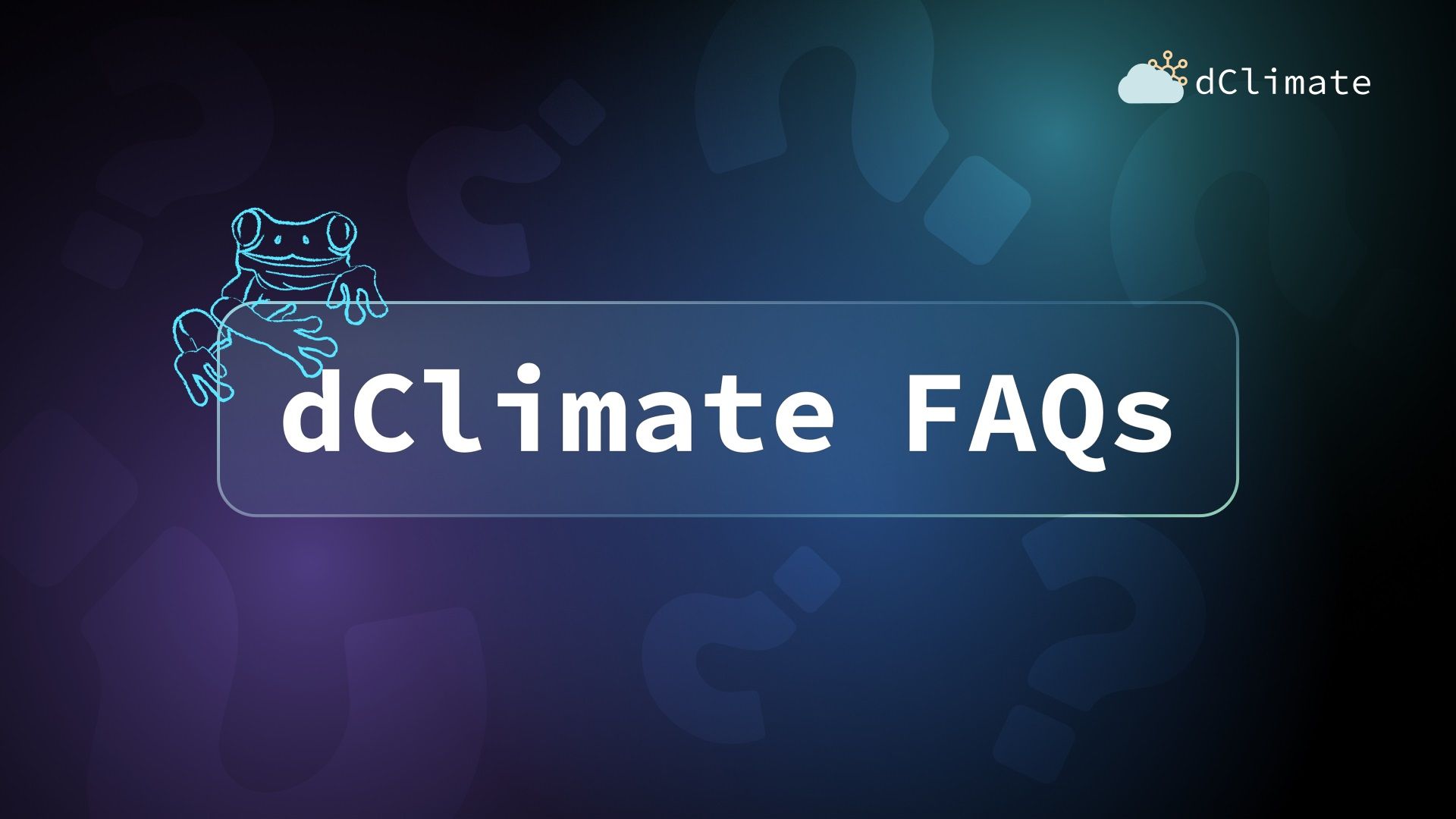 Learn More About dClimate's Mission, the Marketplace, the Ecosystem, and How You Can Get Involved Today!
The latest version of our FAQ can be found here.  
What is dClimate?
A transparent, decentralized climate data marketplace and DAO that allows participants to buy and share data and contribute to an open ecosystem of data-driven climate resilience applications.
What is dClimate's Mission?
dClimate's mission and mandate is to build an essential truth layer for our earth's climate record on blockchain. Businesses, communities, and individuals need good, historical data to understand how climate change impacts them. By creating a standardized and immutable record of our planet's climate information that anyone can add to and that is easily accessible to the organizations that need this data, dClimate can empower participants to build lasting climate resilience. The tools, products, and applications that participants can build on top of dClimate's data truth layer will empower organizations around the world to leverage data to proactively fight climate change.
How Does The Marketplace Work?
The main feature of dClimate's open ecosystem is the data marketplace. The dClimate data marketplace aims to make climate data more accessible and reliable by connecting publishers and data consumers in a single, user-friendly marketplace that benefits all participants. dClimate creates a simple, direct-to-consumer mechanism that makes it easy for publishers to monetize their work. Decentralized data validation powered by Chainlink and the dClimate DAO along with a simple user interface then makes it easy for consumers to shop for both free and paid datasets. Simply put, the marketplace is an easy way for participants to get and share data. Participants can buy data either using Stablecoin or fiat currency. dClimate is creating the iTunes store for climate data, forecasts, and models.
What Is the dClimate Ecosystem? How Do I Contribute?
Data and the data marketplace are just one layer of the broader ecosystem. dClimate is building an open and decentralized ecosystem for new climate resilience applications. So raw data is just the starting point. On top of the base layer, you have the analytics and forecasts layer. Here is where you can take raw data and turn it into actionable insights, models, and analytics that businesses and governments urgently need for climate risk planning and assessment. And then the third layer of the ecosystem is applications and products like parametric insurance, which Arbol is already building on dClimate. The ecosystem is about taking good, institutional-grade data and turning it into life-changing products, tools, and climate technology that can help us fight climate change.
Join our Discord to chat with our team and learn how to start contributing to the ecosystem and building on dClimate today.
Why Is Climate Data Important? Who Even Needs Climate Data?
Basically, every business, corporation or entity that is impacted by weather (governments, financial institutions, top-tier hedge funds, construction companies, outdoor entertainment venues, etc.) needs climate data, models, and resilience tools for planning and risk mitigation/assessment.
Because 70% of the world's GDP is impacted by weather, and because climate data is so valuable for helping us better understand climate change and build adaptation and resilience strategies for its risks, it is critical that climate data is more accessible, reliable, and transparent. Having not just raw data, but advanced models, analytics, tooling, and forecasting will help businesses better understand and manage climate risks.
What Problem Is dClimate Solving?
The problem is that climate data is expensive, fragmented, and opaque. Sure, there are some free datasets out there, but issues arise with data availability and reliability. Some of the common API's out there cost six figures, which precludes solo entrepreneurs and startups from being able to access good climate data that is processed and ready for institutional use and product development. By creating an open and transparent marketplace, we can not only make climate information more accessible and reliable but also create incentive mechanisms (monetization and bounties) that foster innovation and new data collection in areas of the world like Africa that have large gaps in data availability.
In the 21st century, businesses can't be Googling historical weather data to figure out how to plan a project around the weather. That is not very efficient. So what dClimate does first is creating an open data marketplace that allows participants to easily get and share data.
dClimate then aims to incentivize ecosystem development aimed at building climate resilience applications for the next generation. This includes transformative risk products like parametric insurance, which Arbol is already building on dClimate, to planning tools and analytics apps for various industries that need actionable insights on weather and climate, to advanced modeling and forecasts to help businesses proactively prepare for climate disasters in advance.
Data is an essential resource for helping this generation adapt to a rapidly changing climate, and dClimate is building the premier ecosystem for new climate resilience applications on blockchain.
Why Would I Pay for Climate Data If I Can Find It For Free Online?
As they say, you get what you pay for. Sure, there is some data that is available for free, but it often comes in very messy formats (we're used to complicated Excel spreadsheets), is not standardized or ready for institutional use, and large gaps in data availability exist. There is also no data-driven way to confirm the accuracy or reliability of the data you are getting. If you have a dedicated data and product engineering team at your disposal to clean and standardize messy, free datasets from public sources like NASA and NOAA, it might be fine to use free datasets. But if you don't have those resources, that is not a feasible solution.
Major businesses and top-tier financial institutions and governments need to build advanced modeling and analytics for planning purposes and long-term risk assessment. These models can't just be found on Google and downloaded. They either require a ton of resources and data to be built from scratch or you need to buy them from a company that has already invested resources to build them. If you are a major trade house with tons of climate risk embedded in your portfolio or a major energy company, you aren't going to hesitate to make a capital investment in advanced climate analytics, data, and modeling because these resources are essential planning tools.
What Blockchain Is dClimate Built On?
dClimate's base layer is built on Polygon and IPFS. The network additionally leverages Chainlink's leading decentralized oracle network for facilitating important base layer functions and for supporting the DAO and governance layer.
What Is The WTHR Token? Is It Available On Any Exchanges?
WTHR is dClimate's native governance token. It is an ERC-20 token with a fixed total supply of 100,000. WTHR tokens will never be offered by members of the dClimate team on social media platforms, and people claiming to be affiliated with dClimate selling WTHR tokens should be reported to our team. WTHR tokens are not currently available on any exchanges.
How Can I Get Involved With dClimate?​
There are several ways to get involved with dClimate today.
Join Our Community
Get Data For Free Using Our REST API
How Do I Know That the Data I'm Getting Is Accurate and Reliable?
dClimate is building an open marketplace where all data and forecasts have impartial "skill scores'' to make it easier for consumers to shop for climate data. The dClimate marketplace leverages Chainlink's leading decentralized oracle network for retrieving climate data and validating associated skill scores on-chain.
The algorithms for determining skill scores are proposed and voted on by the dClimate DAO (decentralized autonomous organization), and if approved by the community, get deployed as standalone Chainlink external adapters. Once these adapters are created, they are connected to Chainlink's decentralized oracle network, which serves as a trusted and easy-to-integrate mechanism for validating and distributing data from publishers within the data marketplace. This allows data providers and forecasting entities to monetize their work and establish domain variable standards that make consuming climate data simple enough for even the most casual user.
Is dClimate's Data Currently Available For Use?
Data consumers can access dClimate's data infrastructure completely for free today using our REST API. All data available on the API is standardized and ready for institutional use.
Is Anybody Actually Using dClimate Or Building With dClimate's Data Infrastructure?
Yes! Over 1,000 unique clients are already using the dClimate API, including construction companies, financial institutions, and insurance companies. dClimate starts with a strong anchor client in Arbol, a leading blockchain-powered parametric coverage platform focused on weather risk. Arbol uses dClimate exclusively for all of its data needs. Just on parametric coverage alone, dClimate in its first year and before the launch of its signature data marketplace is already serving as a settlement base layer for over $200 million of risk.
What Kind of Data Do You Currently Have?
dClimate currently has data from all over the world, including important climate variables like temperature, rainfall, wind, carbon, and much more. The dClimate data infrastructure includes satellite data and data from over 50+ million grid points and more than 120+ weather stations globally. An example of some of the specific datasets that are currently available can be found here.
For more information about our data infrastructure or for any specific questions about our data, reach out to our team directly on Discord.
To request additional questions/answers be added to this FAQ, submit your question directly to our team in the questions section on our Discord channel. Thank you!
If any of this interests you, and want to learn more about the decentralized and open climate data ecosystem we are building: