Data ReFined #07: The Newsletter about Climate Data, Regenerative Finance and Climate Risk⛅
Catch up with the most important news of the last two weeks regarding climate data and intelligence, utilizing web3 technologies for climate impact within the emerging regenerative finance niche, as well as climate risk management through parametric insurance.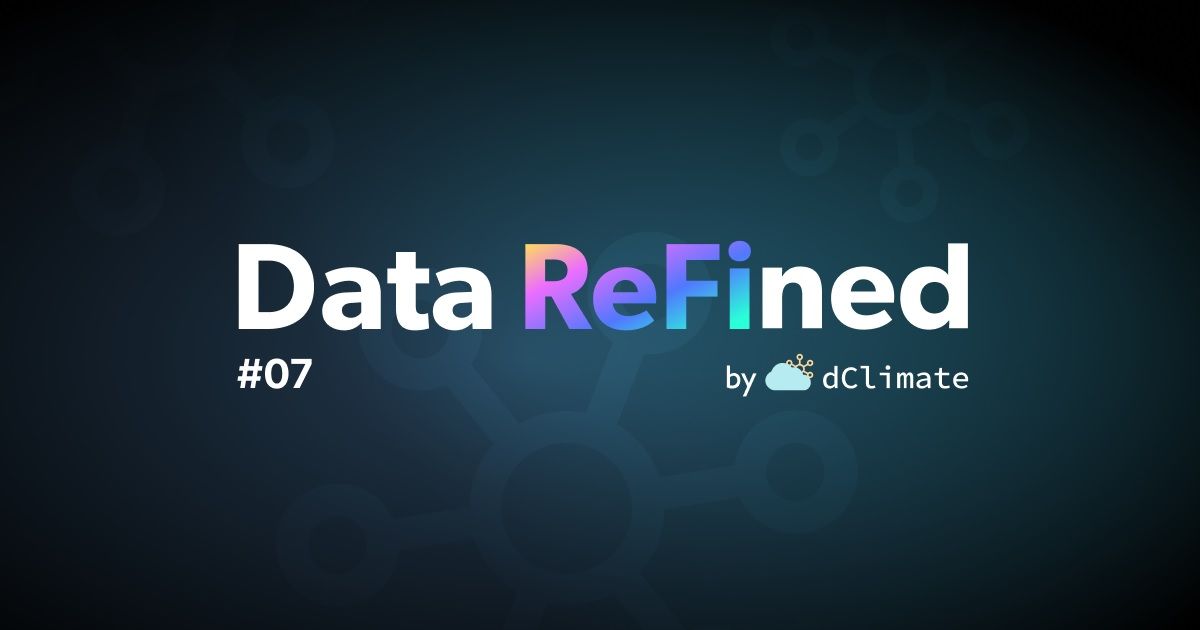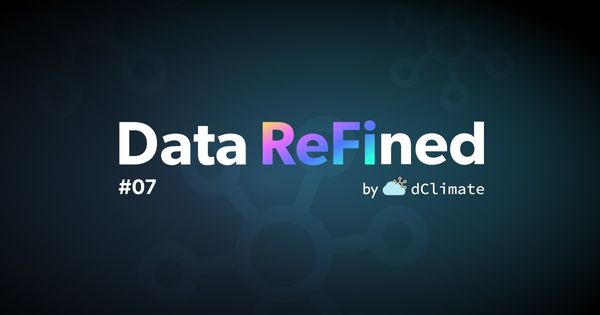 With the spring in full swing on the Northern Hemisphere, we like to take a moment and thank our planet's closest star for providing unlimited solar energy. An increasing amount of power in the global electricity grid is produced via photovoltaic panels. Bloomberg even estimated that 2023 will see more solar capacity deployed than all other energy sources combined! ☀️

We often talk about utilizing our climate data to protect forests, but these valuable datasets can also be applied in the field of renewable energy. If you are curious how, please reserve Monday, May 15th from 1-2PM ET in your agenda for our live conversation with Jasmine Energy on Twitter Spaces.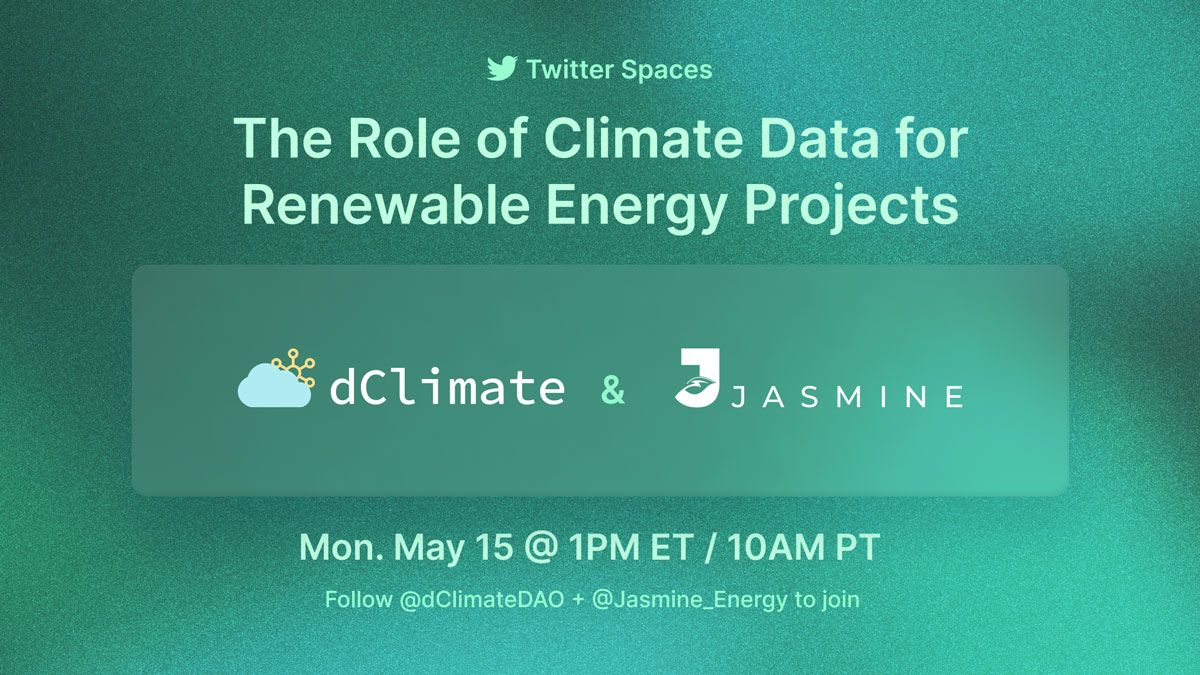 With this announcement out of the way, let's dive into the high signal content that we have collected for you over the past two weeks. 👇
---

⛓️ Osho Jha, dClimate's CEO, wrote an article for CoinDesk about the power of blockchain technology to contribute to more climate-friendly investments and a greener economy. Some of the main topics that he covers include: open data infrastructure, scaling the voluntary carbon market, and parametric insurance.
---
🛰️ Europe's meteorological satellite agency (EUMETSAT) and the European Space Agency (ESA) have released a first image from their third generation weather satellites. These new weather satellites can produce more frequent images with higher resolution and more detail, which helps to improve forecasts of severe weather events and contribute to advance long-term climate models.
---
---
Climate Data & Intelligence: Quick News
📜 This article from Fast Company argues that business leaders should integrate more up-to-date climate data and insights into their businesses, especially to anticipate environmental risks. The governmental reports that many businesses rely on are often lagging indicators and not actionable.
🌦️ This article from Slate explains why many weather apps are quite inaccurate and why these apps should improve the way they communicate (extreme) weather events with more context.  
🌊 This article from The Conversation shines light on Earth's rapidly warming oceans, the possible effects of El Niño, and why it matters. "Water can hold much more heat than air can. In fact, just the top few metres of the ocean store as much heat as Earth's entire atmosphere."
⚡ This podcast episode from the Carbon Copy explores the wide range of data and AI applications for grid modeling and renewable energy integration in an increasingly electric and distributed energy system.
---

📄 The World Economic Forum (WEF) has published a report on how blockchain technologies can scale climate action. More than 40 ReFi organizations have contributed to this paper, including our friends at Climate Collective, Hyphen, and Toucan Protocol.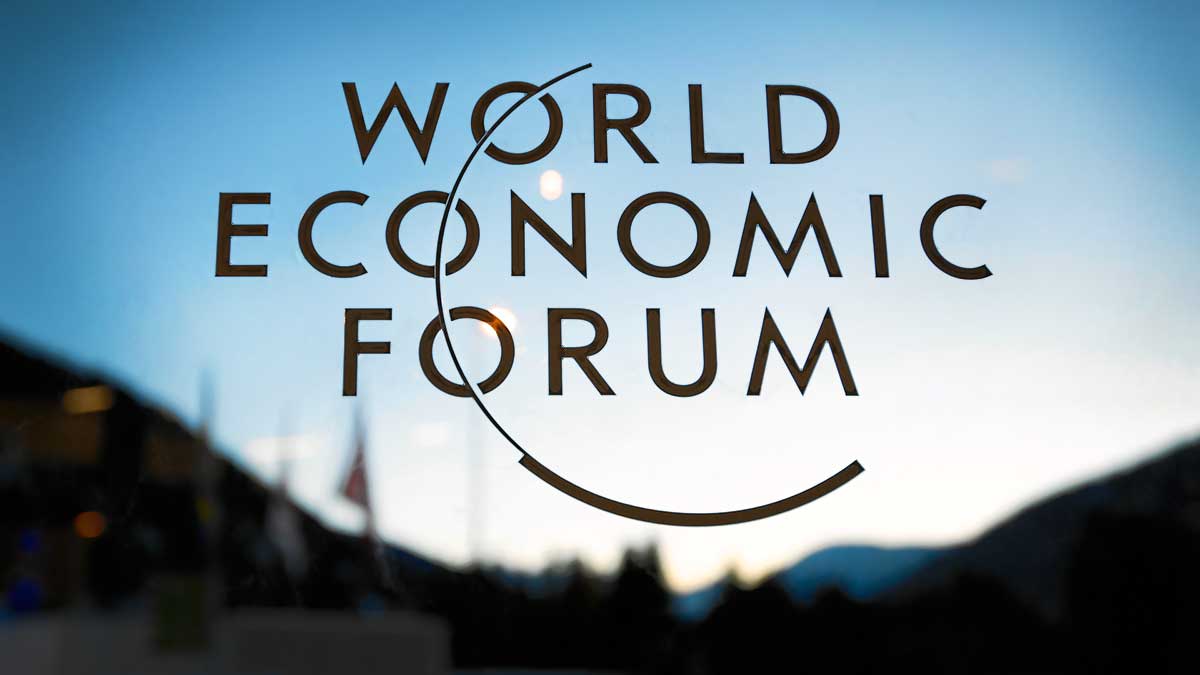 ---
💸 This extensive article from Bloomberg details the new 'second wave' of investment flows into climate technology.
---
Regenerative Finance: Quick News

🌱 Consensus 2023, one of the biggest web3 conferences, happened last week. Some of dClimate's team members attended the ReFi House event, enabling them to network with new projects and strengthen existing relationships.  
🌍 The Gitcoin Beta Round is now live, and includes a climate solution section. Gitcoin boosts donations from individuals and entities from a bigger capital pool using the quadratic funding mechanism.  
---

⛈️ dClimate's CEO, Osho Jha, wrote this article for Digital Insurance explaining how blockchain technologies can improve accountability and transparency in climate risk management.
---
🌪️ Our partner Arbol announced an exciting partnership with RiskStream in which they aim "to leverage blockchain technology to streamline data flow, increase transparency, and enable rapid payouts in parametric insurance and reinsurance programs, addressing the challenges in managing seasonal and catastrophic climate risks, such as major storms and hurricanes."
---
Climate Risk & Resilience: Quick News
🎙️ Sid Jha, one of dClimate's co-founders, was interviewed on the Category Visionaries podcast where he talked about building the future of climate risk management.
☀️ This Bloomberg article presents five ways how financial products can de-risk heat waves, including heatstroke and crop insurance.
🔗 In this podcast episode of Climate Rising the Chief Data Scientist at Everstream Analytics discusses how AI and machine learning is used to help mitigate risk for supply chain logistics in a changing climate and in the face of extreme weather events, such as heat stress, drought, and temperature extremes.
---
Thank you for reading our newsletter! 💙
Please consider sharing this newsletter with colleagues, friends and acquaintances that might find this content interesting.
If you haven't done so, you can subscribe to this bi-weekly publication and receive it directly in your inbox every other week.
⛅
Do you want to learn more about the decentralized and open climate data ecosystem we are building?