Data ReFined #05: The Newsletter about Climate Data, Regenerative Finance and Climate Risk⛅
The most important news from the last two weeks in the world of climate data, ReFi, and financial climate risk management, packaged in 14 pieces of content.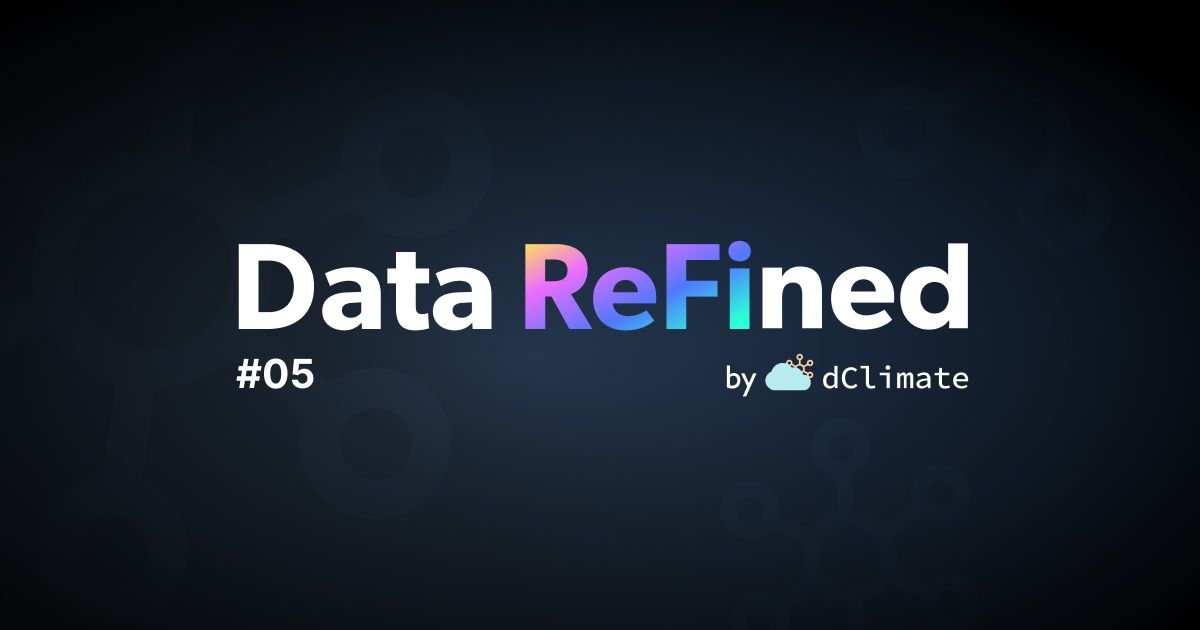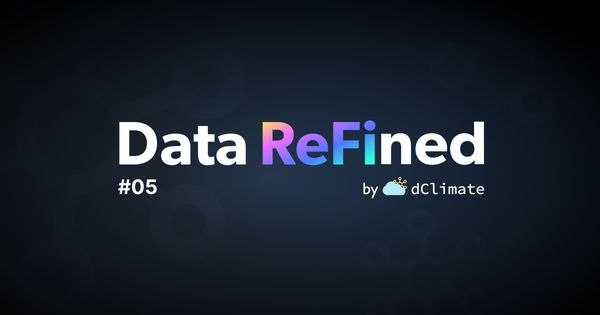 This edition of the Data ReFined newsletter contains some more videos than normal, which you can add to your Youtube watch later playlist if you don't have time right now. There is a lot in this one, so let's dive right in! 👇

✨ NASA's Youtube channel released a 9 minute video tutorial and overview of their Eyes on the Earth browser application, showcasing NASA's satellite missions, the collected climate datasets, and some neat data visualizations.
---
📈 Copernicus released the surface air temperature update for March 2023, stating that "March of 2023 was jointly the second warmest March globally".
According to the publication "there is general agreement among datasets that the period since 2015 is much warmer globally than any previous period. There is also agreement that global temperature has risen at an average rate close to 0.2°C per decade since the late 1970s."
---
---
Climate Data & Intelligence: Quick News
🌡️ Berkeley Earth, a non-profit research organization, has released a beta version of its new High-Resolution Temperature Dataset. At 0.25° the updated dataset is 4 times higher resolution than their old version (1.0°) and can produce historical temperature fields with a much higher resolution than the 2° to 5° resolution products produced by NOAA, NASA, and UK's HadCRU.
🌍 The United Kingdom's national weather service, the Met Office, published a video detailing 8 essential climate variables - a great primer for those new to climate data.
❄️ Based on new research published in Nature, this article explains why Antarctica's melting ice sheets slow down the network of strong currents spanning the world's oceans (overturning circulation). The article contains various data visualizations of ocean currents, as well as a short clip featuring the scientists of the new study.
---

📺 Climate Summit, an event hosted by Flowcarbon, Celo and Open Forest Protocol during ETHDenver 2023, has uploaded the panel discussion videos on Youtube. We recommend watching this panel about the importance of digital MRV, featuring dClimate's Head of Growth.
Heads up: the Climate Summit will return at Consensus 2023.
---
Regenerative Finance: Quick News
📄 dClimate's CEO, Osho Jha, has written an insightful article for Nasdaq, exploring the transformative potential of blockchain technology in fostering climate-friendly investments and paving the way for a green economy.
🌦️ WeatherXM, a Web3 company that enables and incentivizes people to share their data from a local weather station, which contributes to improving weather forecasts, was featured in a post and video by Protocol Labs (the organization behind Filecoin).
🎤 Celo, a L1 blockchain and one of the pioneers in the ReFi movement, was featured on the Empire Podcast. Marek and Rene explain how Celo provides the infrastructure used by local communities throughout the globe to provide real-world use cases for payments and restorative finance.
---
---

🤖 dClimate's Co-Founder Sid Jha has written this article about how technologies such as AI, blockchain, and machine learning algorithms can drive parametric insurance products for climate risks.

---
🌤️ CNBC released a 15 minute overview video exploring the $17 billion industry of improving weather forecasting. The video focuses on America's NOAA and how they collaborate with private organizations such as Saildrone.
---
Climate Risk & Resilience: Quick News
🏠 InsTech released the second edition of their free 'Property Intelligence: understanding and managing natural hazards' report. It features 36 companies offering solutions relating to natural hazards, including catastrophe modellers and hazard score providers. The report also includes perspectives from an insurer, broker and MGA on the current hazard data and catastrophe modelling market and what they are looking for from these providers.
✅ Small, local companies and underserved communities are typically much more vulnerable to (financial) climate risks. This article, written by one of the co-founders of dClimate, details how parametric insurance can be a valuable tool to improve financial resilience against climate risks for SMEs and underserved communities such as the elderly, low-income households, children, and minorities.
🌪️ Mozambique has been impacted by three major cyclones since the start of 2022, affecting nearly a million people and destroying over 220,000 hectares of crops due to flooding. In an effort to protect its citizens from these natural disasters, the Mozambique Government has purchased parametric insurance that covers $35 million worth of cyclone-related damage.
---
Thank you for reading our newsletter! 💙
Please consider sharing this newsletter to colleagues, friends and acquaintances that might find this content interesting. If you haven't done so, you can subscribe to this bi-weekly publication and receive it directly in your inbox every other week.
⛅
If this content interests you, and want to learn more about the decentralized and open climate data ecosystem we are building: