Distinguished Africa Expert Ambassador J. Peter Pham Joins dClimate's Advisory Board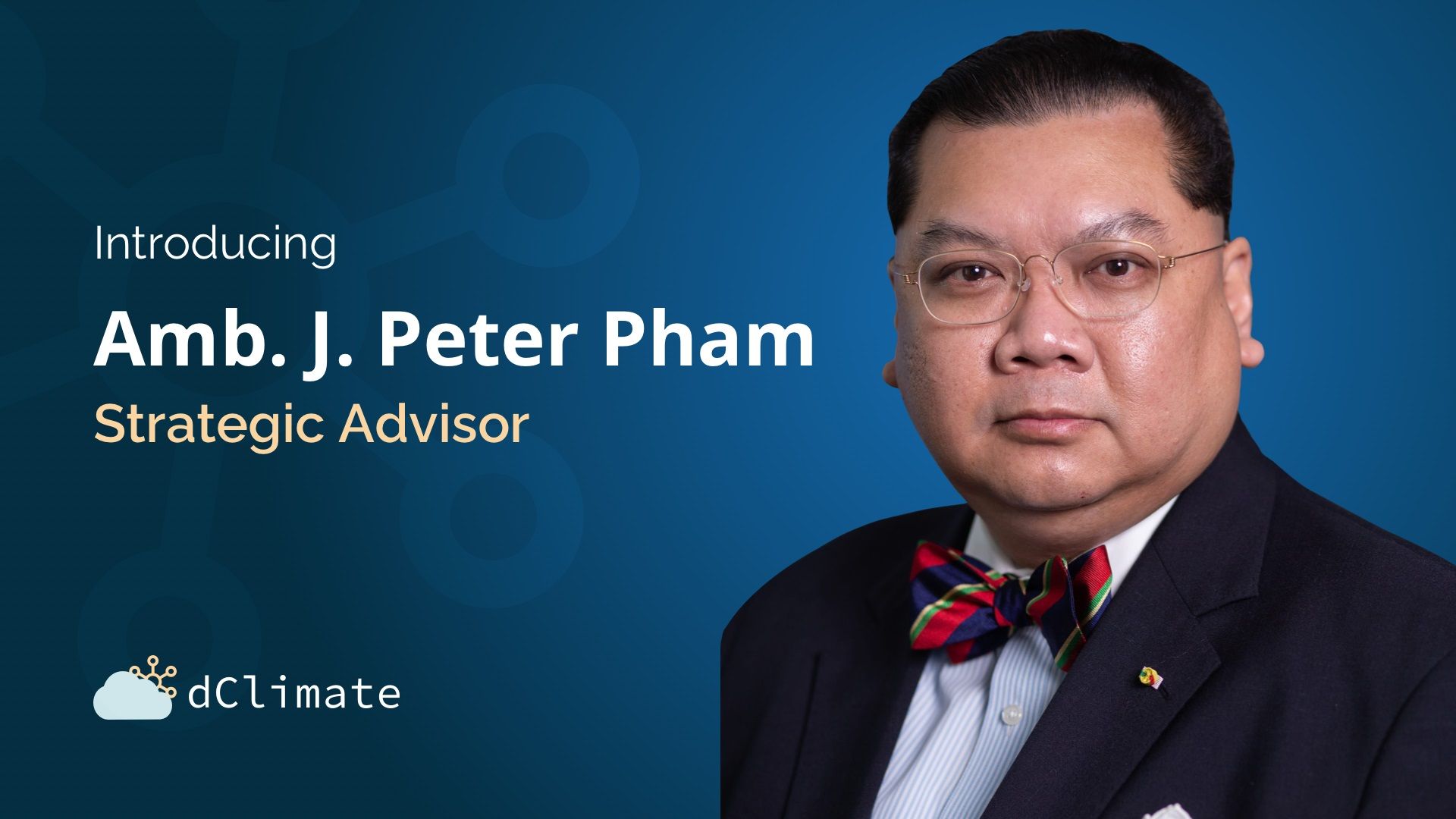 NEW YORK (July. 29, 2021) — dClimate, the first decentralized network for climate data, today announced that renowned Africa expert Ambassador J. Peter Pham has joined dClimate's advisory board. Ambassador Pham is currently a distinguished fellow at the Atlantic Council, a Washington D.C.-based think tank, and will help build out dClimate's presence in Africa.
"Peter is a celebrated academic, diplomat, and policy advisor who brings to dClimate a unique understanding of the challenges and opportunities facing the African continent," said Sid Jha, a founding partner of dClimate. "His decades of expertise will be an indispensable asset to our team as we look to build the network into a resource that can be leveraged by developing nations and regions who need access to reliable and available climate data to build towards a sustainable, resilient future."
"Climate change is one of the most critical challenges of the 21st century, especially for Africa," said Ambassador Pham. "Having a platform that can provide actionable insights to leaders in this region will make it easier for key climate resilience services like weather insurance to be deployed in underserved areas. I look forward to working with the dClimate team towards achieving their vision of making climate data more accessible and reliable in developing economies, especially in Africa, which is simultaneously disproportionately negatively impacted by climate change and yet has the potential to contribute significantly to the global response."
Ambassador Pham is a renowned Africa expert and a former senior official at the U.S. Department of State who most recently served as the first Special Envoy for the Sahel Region of Africa with the personal rank of Ambassador. He had previously served as U.S. Special Envoy for the Great Lakes Region of Africa, where his wide-ranging mandate tasked him with "coordinating the implementation of U.S. policy on the cross-border security, political, and economic issues in the Great Lakes region." Prior to his recent government service, Ambassador Pham had been the vice president for research and regional initiatives at the Atlantic Council as well as director of its Africa Center. Previously, he had also been senior vice president of the National Committee on Foreign Policy and a tenured professor of justice studies, political science, and Africana studies at James Madison University, where he was also director of the university's Nelson Institute for International and Public Affairs.
Ambassador Pham is the author or editor of a dozen books and a contributor to many publications, including Foreign Policy and Newsweek. He appears regularly as a commentator for mainstream print and broadcast outlets, including CBS, PBS, CNN, BBC, MSNBC, the New York Times, the Wall Street Journal, the Financial Times, Reuters, and the Associated Press. His full bio can be found here.
dClimate is the world's first transparent, decentralized network for climate data, forecasts, and models. It aims not only to make climate information more accessible and reliable, but to incentivize new innovation and research in the climate data ecosystem. The dClimate network is heavily integrated with Chainlink's leading oracle network to facilitate on-chain data validation and support for the network's governance layer. The network previously announced a $3.5 million seed financing round in April led by CoinFund, with participation from Multicoin Capital and Republic Labs to finance network development and user acquisition. In addition to Ambassador Pham, dClimate previously announced that entrepreneur Mark Cuban had joined the network as a strategic advisor and investor.

About dClimate:
dClimate is the world's first transparent, decentralized marketplace where climate data, forecasts, and models are standardized, monetized, and distributed. The marketplace connects data publishers directly with data consumers, making climate data more accessible and reliable. When data providers share data and forecasts with the market it is automatically scored for reliability, which helps consumers to shop for information. In exchange, dClimate creates a simple, direct-to-consumer distribution mechanism to monetize their work.
If any of this interests you, and want to learn more about the decentralized and open climate data ecosystem we are building: